[Aug] Asahi-gawa River mountain stream Festival
※※※日程以外は、昨年度の情報となります。 今年度につきましては、決まり次第掲載します。※※※
There is fun Events such as mountain stream fish notsukamidorino et al., treasure hunt, too.
We prepare for incineration ground in venue. We grill fish which we caught and can eat.
※When we cannot carry out by flooding of bad weather and river, it is called off.  
※tsukamidoriosuru does not affect to bend,
 Admission is necessary to enter venue.
※We enter in venue until the opening time (8:15) and cannot do it.
 In addition, after festival until 16:00
 General car except festival participant cannot enter.
Thank you for your understanding.
Under 2019 flyer ... preparations
[reference] Last year flyer
↓ ↓↓↓ ↓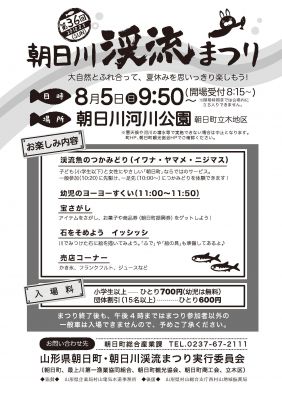 Information
■

Name

[Aug] Asahi-gawa River mountain stream Festival

■

Schedule Sunday first in August


■

Date Sunday, August 4, 2019
~ Sunday, August 4, 2019

■

Time 9:50 ~ (acceptance start: at 8:15 ~)


■

Location 101-3, Tateki, Asahicho (Asahi-gawa River river Park)


■

Contact information

Asahi-gawa River mountain stream Festival executive committee secretariat Asahi-machi government office general industrial section

■

Phone number

0237-67-2111

■

Admission << admission >> 700 yen (as for the infant, free) alone more than primary schoolchild
Group discount (more than 15 people) one 600 yen
※Admission is necessary tsukamidoriosuru without being concerned to bend to enter venue.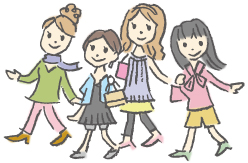 Sightseeing information search
Welcome to the Yamagata Prefecture
Yamagata Weather Forecast