Naganuma Hachiman Shrine Kagura-mai Dance
ながぬまはちまんじんじゃかぐらまい
As one of the entertainment of people who went to landowner farmhouse for service, lion dance, woman's dancing, Kagura-mai Dance, flute, drum seemed to be inherited at first.
We paid disasters, bad insect, epidemic with year and staple grains were fertile and prayed for my wife security, business prosperity, and spirit case came to be performed in Higami solemnly on August 14.
We went to Doguchi of Mikawa-machi, and, until about 1965, dance was carried out for four days until August 17.
It has been told by inhabitants (the current shrine east, lower authority of) of Naganuma district old three wards, but successor decreases with the times, and flute and woman's dancing are cut off for period at 1:00 and they are reduced for two days and continue up to the present day until now.

Information
■

Name

Naganuma Hachiman Shrine Kagura-mai Dance

■

Schedule Hachiman Shrine Annual Festival every year April 29
It is staged every year on August 15, 16th (Hachiman Shrine, summer Annual Festival)


■

Contact information

Fujishima Government building general affairs Planning Division

■

Phone number

0235-64-2111

■

FAX number

0235-64-4280

■

Access

Is car than Fujishima Station; 15 minutes
Access Map
Link
[Last updated] March 19, 2015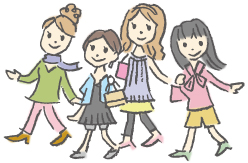 Sightseeing information search
Welcome to the Yamagata Prefecture
Yamagata Weather Forecast