Tsuruoka Tenjin Festival (festival of simulation)
つるおかてんじんまつり(ばけものまつり)
Festival of popular name, simulation in memory of Prince God, Michizane Sugawara of study

When it was done banishment to an island in Kyushu Dazaifu, people loving Prince way truth hesitate about power at time, and we change figure and cover face, and, by festival of Tsuruoka Tenman-gu Shrine worshiping Prince Michizane Sugawara said to be God of study, Prince way truth exchanges liquor secretly, and there is legend that regretted parting.
Regardless of any people regardless of age or sex, we put on obi to long undergarment of showy floral design and cover face with Japanese towel and sedge hat and have cup and sake bottle in hand and it is silent and serves liquor.
We are called as popular name "buggaboo Festival", and on the day various buggaboos including child and adult walk around Tsuruoka-shi center. It is said to be when we can pray without being known to anyone for figure of simulation for three years when the heart's desire comes true.
Information
■

Name

Tsuruoka Tenjin Festival (festival of simulation)

■

Date Friday, May 25, 2018
~ Friday, May 25, 2018

■

Time

14:00 ~ parade start

■

Location

3-40, Shinmeicho, Tsuruoka-shi Tsuruoka Tenman-gu Shrine

■

Contact information

Tsuruoka-shi Tourism and Products Division

■

Phone number

0235-25-2111

■

Access

It is approximately 20 minutes on foot from JR Uetsu Main Line Tsuruoka Station
Access Map
Link
[Last updated] April 08, 2018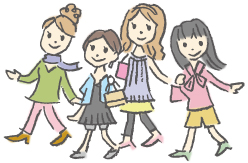 Sightseeing information search
Welcome to the Yamagata Prefecture
Yamagata Weather Forecast