Kaminoyama-shi folk event Kasedori"
かみのやましみんぞくぎょうじ かせどり
Dash Iwai-mizu [blessed water] on Kasedori praying for grain fertility and prosperity in business!
In this traditional fork event of Kaminoyama, people dash Iwai-mizu on young men wearing straw raincoat called "Kendai," which has come down from the Edo Era, praying for grain fertility and prosperity in business. Why don't you come and join us to dash water vigorously?

◆<Date and Time>
  February 11, 2018 (Sundays and holidays)

∴‥∵‥∴‥∵‥∴‥∴‥∵‥∴‥∵‥∴‥∴‥∵

 10:00 Praying Ceremony (at open space in front of the main gate, Kaminoyama-jo)
 About 11:00 help bird line leaves
 About 11:05 ~ Tokamachi mall ~ Yumachi district ~ Shin-Yu district ~
 ~ Futsukamachi street ~ JR Kaminoyama-Onsen Station ~ Shin-Yu street ~ Comyn former at about 12:10
 Starting ~ Ishizaki, Kawasaki district ~ Hayama district at about 13:30 in front of the ~ JR Kaminoyama-Onsen Station
 About 14:50 Ueyama fire department, Ueyama police station
 About 15:00 YAMAZAWA Ueyama shop, oban Ueyama shop
 About 15:15 York Benimaru Ueyama shop
 It is going to be finished at about 15:30

 (as ※ time is indication, we may be changed. Thank you in advance for your understanding.)

∴‥∵‥∴‥∵‥∴‥∴‥∵‥∴‥∵‥∴‥∴‥∵

◆Sale of help bird gourmet…"To sleep fresh fish" ... at about 10:30; at opposite Tokamachi parking lot
Sale by all of furankukase bird (150 limitation, 300 yen) Kaminoyama-shi business and industry society youth groups.
It is popular limited gourmet every year!


◇Sale of help bird goods…We plan in before ~ Kaminoyama-jo Castle at 9:00
On the day new product sells on a qualified scale, too!


◆Amazake [sweet fermented rice drink] is offered for free to visitors…In in front of 9:00 ~ Kaminoyama-jo Castle
Behavior by sightseeing volunteer guides.
In a limited quantity. Please early!


◇Sale of Japanese oak rooming house noted product "natto grilled mochi"…In in front of 9:00 ~ Kaminoyama-jo Castle
We sell natto grilled mochi of mothers handicraft of local "baachanzukurabu" for the first time this year.
Please usually appreciate fragrant taste that you can eat only in winter Japanese oak rooming house at this opportunity!
One 100 yen (we plan one rice cake, 150 limitation to one skewer)

Information
■

Name

Kaminoyama-shi folk event help bird

■

Schedule

Annually on February 11

■

Date Sunday, February 11, 2018
~ Sunday, February 11, 2018

■

Location

The Kaminoyama-jo Castle (prayer type) ~ Ueyama city

■

Contact information

(no company) Sightseeing product association of Kaminoyama-shi

■

Phone number

023-672-0839

■

FAX number

023-673-3622

■

Access

To Kaminoyama-jo Castle that the ceremony of prayer is held, it is approximately 15 minutes on foot from JR Kaminoyama-Onsen Station

■

Remarks ○Kasedori Castletown Map is available for download from Kaminoyama-shi Kanko Bussan Kyokai website.

○Straws slipped out of Kendai are regarded as lucky charm. When tied to a girl's hair, it is said to bless her with black hair for all her life.

○You can learn more about Kasedori including its history on "Kasedori Hozon-kai" website.
Access Map
Link
[Last updated] January 19, 2018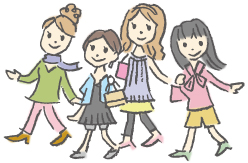 Sightseeing information search
Welcome to the Yamagata Prefecture
Yamagata Weather Forecast