Mt. Chokai-san Omonoimi Shrine Okaguchi, Warabi no shrine Annual Festival
ちょうかいざんおおものいみじんじゃわらびおかくちのみやれいたいさい
Daiombei Festival, festival full of the history and culture including dance of Ennen

Mouth no shrine is in Fukura with bracken Oka in Mt. Chokai-san Omonoimi Shrine.
In Okaguchi, Warabi no shrine, Annual Festival is held every year on May 3.
It was said to be large Gohei Festival (ombeimatsuri), and 10m was heroic Festival which scrambled for Gohei touched earlier of bamboo whether there would be.
In late years representative of young man of district climbed bamboo and took Gohei or stood.
Prefecture designated immaterial folk cultural assets "dance of Ennen" is dedicated in the precincts.
It is called Daiombei Festival (ombeimatsuri), upper temple Festival.

Information
■

Name

Mt. Chokai-san Omonoimi Shrine Okaguchi, Warabi no shrine Annual Festival

■

Schedule

Annually on May 3

■

Location 51, Matsugaoka, Kamiwarabioka, Yuza-machi, Akumi-gun


■

Contact information

Person in charge of sightseeing in Yuza-machi Planning Division product

■

Phone number

0234-72-5886

■

Access It is ten minutes by car from JR Uetsu Main Line Yuza Station
It is 20 minutes by car from all Nihon-kai Tohoku Expressway Sakata and IC
Access Map
Link
[Last updated] March 22, 2018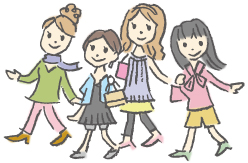 Sightseeing information search
Welcome to the Yamagata Prefecture
Yamagata Weather Forecast