Form party We mend with Styrofoam
ふぉーむぱーてぃー はっぽうすちろーるでつくろう
We hold form party Styrofoam detsukurouo
We cut Styrofoam just as wanted and make tool "form cutter" of magic to be able to form and we begin to talk about favorite form including letter and puzzle of 3D and three-dimensional sculpture and play.
Information
■

Name

We mend with form party Styrofoam

■

Schedule

Friday, August 11, 2017 ※Deadline for application: On Sunday, August 6 six capacity (first-come-first-served basis)

■

Time

From 13:30 to 16:30

■

Location

Small cherry tree building the second floor meeting room 2

■

Contact information

make dojo studio, Tanaka

■

Phone number

0238-76-4056

■

Admission

500 yen (the materials actual expenses)

■

Remarks

Apply over email or telephone

■

Others

Child before attendance at school, please participate with protector. There is not thing to prepare in particular.
Access Map
[Last updated] July 04, 2017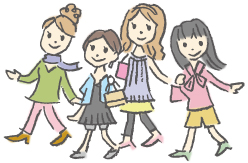 Sightseeing information search
Welcome to the Yamagata Prefecture