In spring awaiting city, in spring awaiting music festival
はるまちいち、はるまちおんがくさい
"City where delicious thing inside and outside the town and pretty things gather in Kawanishi-machi awaiting in spring." Family or friend can enjoy all day together.
"Both I and hina doll" which are used to the Dolls' Festival with authentic kimono to be able to easily wear are popular.

We hold "spring waiting music festival" that musicians of various genres gather for by holding at the same time from the prefecture outside at the same time. While you are wrapped in elegant tone, please enjoy warm 1st to wait for spring.
Information
■

Name

In spring awaiting city, in spring awaiting music festival

■

Date Saturday, February 23, 2019
~ Sunday, February 24, 2019

■

Time

From 10:00 a.m. to the evening 4:00

■

Location

Kawanishi-machi friendly plaza

■

Contact information

Kawanishi Town Tourist Association

■

Phone number

0238-54-1515

■

FAX number

0238-54-1516

■

Admission

No charge for admission (it costs in store and workshop)

■

Access

Is car than JR Yonesaka Line Uzen-Komatsu Station; five minutes

■

Parking lot

Available (Kawanishi-machi friendly plaza parking lot)
Access Map
Link
[Last updated] November 02, 2018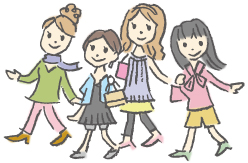 Sightseeing information search
Welcome to the Yamagata Prefecture
Yamagata Weather Forecast