Yachi Hina Doll Festival
やちひなまつり
Showcase hina in the times of gem
Many hina dolls that it is still left to old family in the town block to show way of prosperity by safflower trade at the time.
Grand times young bird which has been inherited is opened to the public this year from generation to generation around both Sun on April 2, 3rd, Hina-ichi Doll Market street in Kyoho Hina Doll, Jirozaemon Hina Doll, Kokin Hina Doll, each house including gift doll of court nobles.

In addition, Shinto ritual of "hina memorial service" is carried out in Akiba Shrine during period, too.
Please arrive with your friends.
Information
■

Name

Yachi Hina Doll Festival

■

Schedule

Every year April 2, April 3

■

Date Tuesday, April 2, 2019
~ Wednesday, April 3, 2019

■

Time

From 9:00 to 16:00 (until some 17:00)

■

Location

Yachi, Kahoku-cho, Nishimurayama-gun

■

Contact information

Yachi Doll Festival executive committee (Kahoku-cho tourist association)

■

Phone number

0237-72-3787

■

FAX number

0237-73-3500

■

Admission 1.Showcase
 � Safflower Museum 400 yen for adults
2.Tourist association exhibition young bird
 The � Kifumi Takeyas (the first venue)
 � north exit public hall (the second venue)
 Tourist association public hina admission ticket one piece 500 yen
※We can see Safflower Museum, the Kifumi Takeyas, all of north exit public halls in one piece of one.
3.Personal house exhibition young bird
 The � Hidetomo Suzukis 400 yen for adults
 The � Masayuki Suzukis 300 yen for adults
 � Akira Hosoya Heike 300 yen for adults
 � Kunii  family 300 yen for adults

■

Access We operate shuttle bus free than Sakurambo-Higashine Station on April 2, 3rd
Is car than JR Yamagata Shinkansen Sakurambo-Higashine Station; 15 minutes
It is ten minutes by car from Tohoku Chuo Expressway Higashine IC
Than Ginzan Hot Springs car 40 minutes
Than Tendo Hot Springs car 20 minutes

■

Parking lot Kahoku-cho townsman gymnasium parking lot
sahato beni flower parking lot
Hiroshi Park parking lot in Kahoku-cho

■

Remarks Venue is around town office previous Hina-ichi Doll Market street, Kahoku-cho Safflower Museum
※Exhibition of personal house may be changed
Access Map
Link
[Last updated] September 03, 2018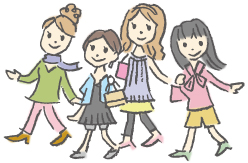 Sightseeing information search
Welcome to the Yamagata Prefecture
Yamagata Weather Forecast